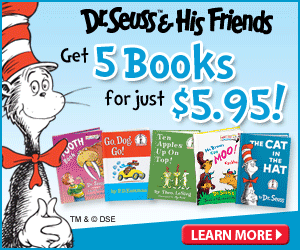 Happy Birthday Dr Seuss!  Dr Seuss's birthday is tomorrow, March 2 and in honor, the Dr Seuss & His Friends Book Club is offering a hot deal for this weekend only.
For $5.95 you will get:
The Cat in the Hat, Mr. Brown Can Moo, Ten Apples On Top, Go Dog Go! & The Tooth Book
Free colorful Cat in the Hat Backpack to carry all your books in.
Free shipping.
Free Dr. Seuss & His Friends Audiobook read by Jason Alexander, David Hyde Pierce or Kelsey Grammer. The audiobooks are ONLY available this weekend, March 1 – 3.
This is a COMPLETELY RISK FREE TRIAL.  You DO NOT need to stay enrolled after your initial books arrive.  If you stay a part of the club you will receive 3 new books each month for less than $5 per book.  When my eldest was born we were part of the Dr Suess and Friends Club and it was great.  The books we received from the club are still some of my kids' favorites.