I love nothing more than fresh baked Challah. Â We like it best when it's still warm, a little undercooked, and doughy in the middle. Â My FAVORITE challah recipe is from Susie Fishbein's Kosher by Design. Â It's called The Best Bread Machine Challah, and it's truly the best. Â I make the standard recipe most weeks, but sometimes I switch it up. Â I use the basic recipe and then I make it into one of my 3 favorite options Cinnamon Raisin Challah, Chocolate Chip Challah, or Double Chocolate Chip Challah. Â If you're looking for an awesome Cinnamon Raisin Challah Recipe, this is the best I've ever had!
| | | |
| --- | --- | --- |
| Cinnamon Raisin Challah | | Print |
Prep time:
Cook time:
Total time:
This is a delicious twist on Susie Fishbein's Best Bread Machine Challah recipe
Ingredients
1½ water
5 egg yolks
⅓ cup of oil
1⅛ tsp salt
4¼ cups bread flour
½ plus 1 heaping TBL sugar
¼ - ½ tsp cinnamon
¼ raisins
1 TBL yeast
Instructions
Add the ingredients as per your bread machine directions. My bread machine calls for the "wet" ingredients (water, egg yolks, oil, and salt) first and then the dry ingredients.
I use the dough cycle to prepare the dough, and then I shape the dough. I generally shape it into a pull apart "crown" or it can be braided.
Coat the dough in cinnamon sugar - when I make a crown, I roll each individual piece in cinnamon sugar.
Bake at 350 for 30 minutes. If you want it to be a little doughy, bake it for 27 - 28 minutes.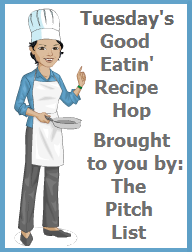 Welcome to the Good Eatin' Recipe Hop
hosted by
The 'Pitch List' Bloggers
Every Tuesday you can join us to share great recipes………
There are no specific themes. 
Add your recipe of choice to the linky.
No Giveaways Please…all giveaways will be removed.
We Love Comments! Please Share!