I'm not a huge fan of the fall, simply because it means winter is right around the corner.  BUT one of my favorite fall traditions is taking the kids apple picking and making homemade applesauce.  This year, unfortunately due to the crazy weather we've had in Michigan, the apple crops were in short supply and there wasn't any apple picking.  BUT, that didn't mean we couldn't make applesauce.  Thanks Mom for this awesome, and EXTREMELY EASY recipe!  The
recipe is so easy that my 3 year old daughter's preschool class made it one day in school.  And of course, she had to be dressed as a princess to cook!
So, if you are looking for a easy and delicious cinnamon applesauce recipe, look no further!
| | | |
| --- | --- | --- |
| Homemade Cinnamon Applesauce – A Fall Favorite | | Print |
Ingredients
Apples – any variety and as many as you want, depending on how much you want to make
Orange Juice
Sugar
Red Hots
Instructions
Peel core and chop up the apples, smaller pieces cook down faster. Put them into a pot.
Add ½ as much orange juice as you have apples. If your apples go 3 inches up your pot, fill the orange juice 1.5 inches.
Let simmer and stir until the apples become soft and can be mashed. I like lumpy applesauce, but if you like it smoother you can continue to mash them.
Add Red Hots for the cinnamon flavor and the pretty pink hue.
Add sugar to taste if the Red Hots didn't sweeten it enough.
Let cool and ENJOY! This recipe freezes really well so don't worry about making a huge batch!
Looking for some other great recipes?  Make sure you check out The Pitch List's Tuesday's Good Eatin' Recipe Hop!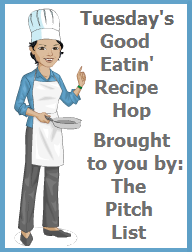 Welcome to the Good Eatin' Recipe Hop
hosted by
The 'Pitch List' Bloggers
We Love Comments! Please Share!